Penhaligon's The Coveted Duchess Rose EDP 75ml (狐狸) 玫瑰公爵小姐的望眼欲穿濃香水75ml
特價
HK$1,424.00
一般價格
HK$1,780.00
Penhaligon's launched a limited edition portrait perfume series in 2016
The core of the story revolves around nobility, revenge, sex, power and desire
Perfumes of different appearances refer to different roles
The story begins with Lord George headed by the deer, and he married Lady Blanche, the representative of the leopard.
The foxes are represented by their palm pearl, Lady Rose, who is married to Duke Nelson, who is a hound.
Two couples who look happy, but they have different minds, and faintly whispering flows among the British aristocracy.
Initiated a series of background stories for the Portraits animal head series perfumes
Miss Duchess Rose, like a fresh and sweet rose, waiting for others to pick it
She can't wait to marry Duke, looking forward to the wonderful life that marriage will bring to her
Originally thought that he had fled his hometown, Lord George (and Mrs. Blanche's discipline, but stepped into another misfortune
At first, innocent and romantic, she has now lost her ideal and disappointed marriage
Always looking for fun and frivolity (maybe love), her perfume is a not-so-innocent fresh rose
Fox design bottle, deep red perfume, fresh and pure, showing unparalleled plump layers
In the alluring woody fragrance, there is a hint of surprise, conveying the joy of the night
Fragrance: Oriental Floral
Top note: citrus
Middle notes: rose
Base notes: musk, woody&nbsp
- Instructions -
It is recommended to spray on the parts that need it, such as the wrists, back of the ears, and neck.
Penhaligon's 在2016年推出了限量的獸首肖像香水系列
故事核心圍繞著貴族、復仇、性、權力與慾望
以外型不一的香水喻指不同的角色
故事以公鹿為首的喬治勳爵開始,瀟灑的他娶了花豹代表的布蘭琪女士
代表狐狸的是他們的掌上明珠玫瑰女爵,則嫁給了獵犬的尼爾森公爵
看起來美滿的兩對夫妻,卻各有不同的心思,隱隱約約的耳語在英國貴族間流動
為Portraits獸首系列香水引發了一連串的背景故事
Duchess Rose小姐,像一朵清新甜美的玫瑰,等著別人來採摘
她迫不及待的想要嫁給Duke,期待婚姻帶給她的美好人生
原本認為已逃離老家,喬治勛爵(與布蘭琪女士的管教,卻步入另一個不幸
起初,天真浪漫,她現在已經失去了理想和失望的婚姻
總是尋找樂趣和輕浮(也許是情愛),她的香水是一種不那麼純真的新鮮玫瑰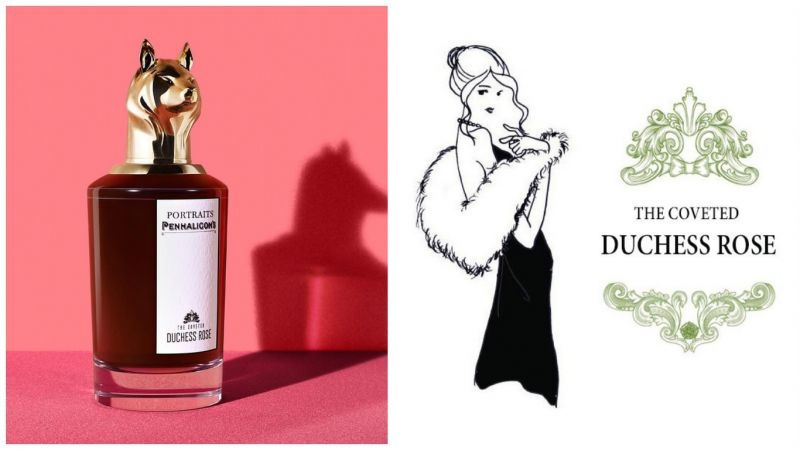 狐狸設計瓶身,深紅色調香水,清新純真,展現無與倫比的豐腴層次
誘人的木香之中,卻透出一絲令人驚喜的氣息,傳達出夜晚的歡愉
香調 - 東方花香調
前調 - 柑橘
中調 - 玫瑰
基調 - 麝香、木質香 
- 使用方法 -
建議噴於有需要的部位例如手腕、耳背、頸部等部位。
更多信息

| | |
| --- | --- |
| 品牌 | penhaligon's |
| 商品條碼 | 793675976090 |
| 包裝 | 1支 |
| 容量 | 75亳升 |
| 前味 | 柑橘 |
| 中味 | 玫瑰 |
| 閃購進行中 | 否 |